Display of Snakes
PFA writes to forest minister, Maneka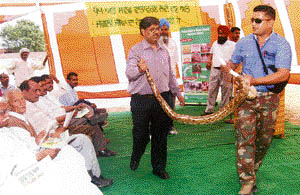 Ludhiana, May 5
The controversy over holding of python and snake shows by the wildlife department, Punjab, with the help of an NGO, Wildlife Conservation Society, Nawan Shahr, has further deepened as the People For Animals, Ropar, has complained to forest minister Tikshan Sood, activist Maneka Gandhi and other officials of the department in this regard.

A python being exhibited by wildlife officials in association with an NGO. — A file photo
http://www.tribuneindia.com/2008/20080506/ldh1.htm#6
Display of Snakes
PFA writes to forest minister, Maneka
Tribune News Service
Ludhiana, May 5
The controversy over holding of python and snake shows by the wildlife department, Punjab, with the help of an NGO, Wildlife Conservation Society, Nawan Shahr, has further deepened as the People For Animals, Ropar, has complained to forest minister Tikshan Sood, activist Maneka Gandhi and other officials of the department in this regard.
Python and other snakes were illegally displayed at a training session at Ropar last month. Earlier, an animal welfare officer had complained of a similar show in Ludhiana on March 8.
PFA vice-president Sashi Kant said reptiles were kept in plastic drums for months together and ferried from one place to the other with the help of wildlife/forest officials.
It was not only violative of the Prevention of Cruelty to Animals Act but also of the Wildlife Protection Act, 1972 and guidelines of the Central Zoo Authority (CZA).
He said just as going to protected forests without the permission of the CWW of state was illegal, so was the capturing and keeping wildlife in captivity without the CWW's permission.
Moreover, keeping rescued animals also required recognition from the CZA and the latter had confirmed that neither had the organisation been recognised nor had it applied for the same.
Honorary wildlife warden and chief coordinator of CAPE-India (Care of Animals and Protection of Environment ) Dr Sandeep K. Jain said reports were shocking.
He said the rescued animal should be sent to its habitat without delay and should not be kept for long in captivity, as it would become difficult and unsafe for such animal, for it got used to readymade food and human handling.
Their preying instinct and resistance was lost and they perished in forests.
If the animal was sick it should be sent to the rescue centre or nearby zoo where veterinary aid and other infrastructure was available.
International PFA chairman Naresh Kumar has said that reptile handling was a complex and sensitive issue and should be done by authorised people.